Read this guide before buying a weighted blanket
#1 Weighted Blanket Guide

How we designed the perfect weighted blanket
Updated July 7th 2020
We spent over two years engineering the perfect weighted blanket. We did extensive research on the other weighted blanket options, solved several major design flaws, and delivered it to you at a fair price.

1. Two-Layer Design for Flexibility and Breathability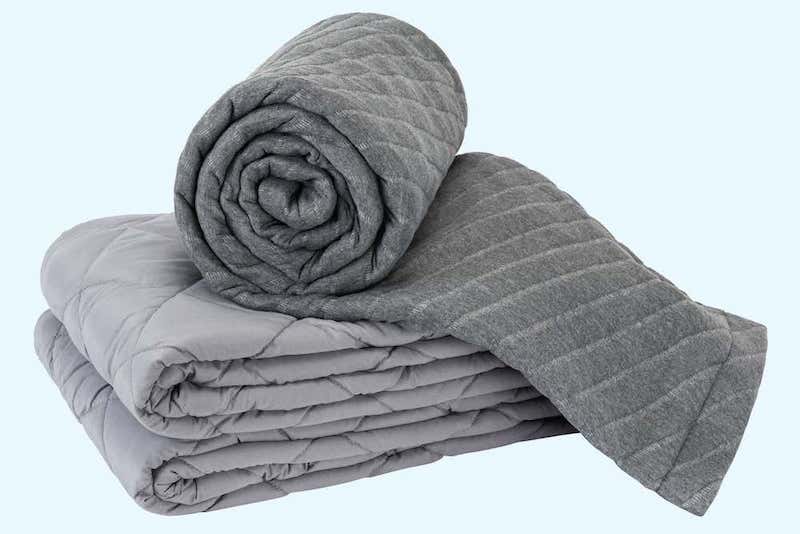 Our unique blanket design comes in two parts: the weighted blanket and an optional duvet cover. The duvet cover is machine washable for easy cleaning. Or just use the inside weighted blanket for summer months.
2. Micro Glass Bead Filling Instead of Plastic Beads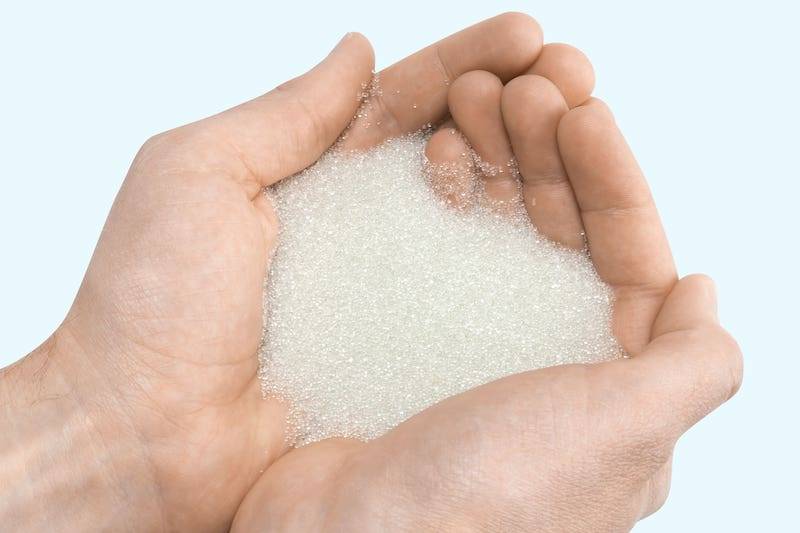 Micro glass beads make your weighted blanket heavy. They're so fine, they feel almost like sand in your hands. Because of their compact size, we can create the necessary weight without much volume. They are super dense, smooth, and secured between layers of polyfill, so you can barely feel them in the blanket. They are also non-toxic and made of recycled glass to be better for the environment.
Other manufacturers use cheap plastic pellets for their filling. These are twice as large so the blanket ends up much bulkier. And because plastic pellets are so large, you can feel them through the blanket. Even worse, they made a lot of noise when they move making it very hard to sleep.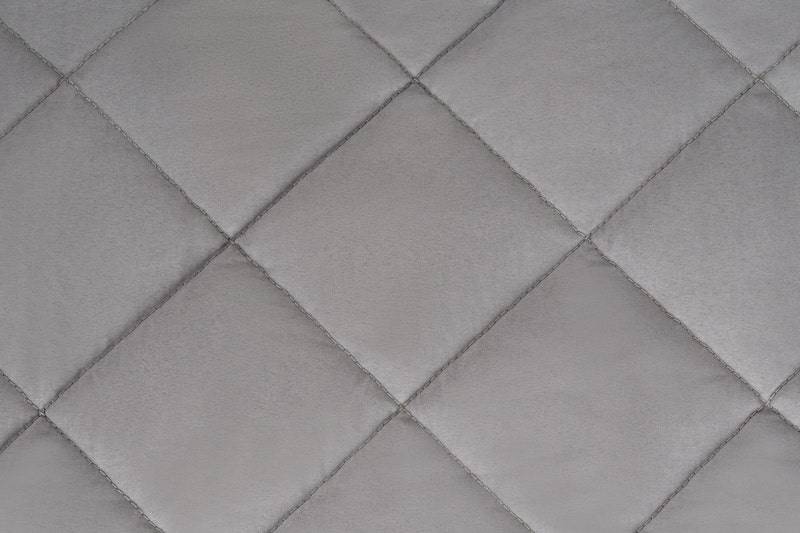 The glass beads are held in place in secure 4 inch pockets arranged in a diamond pattern. This ensures the weight is evenly distributed and contours to your body throughout the night.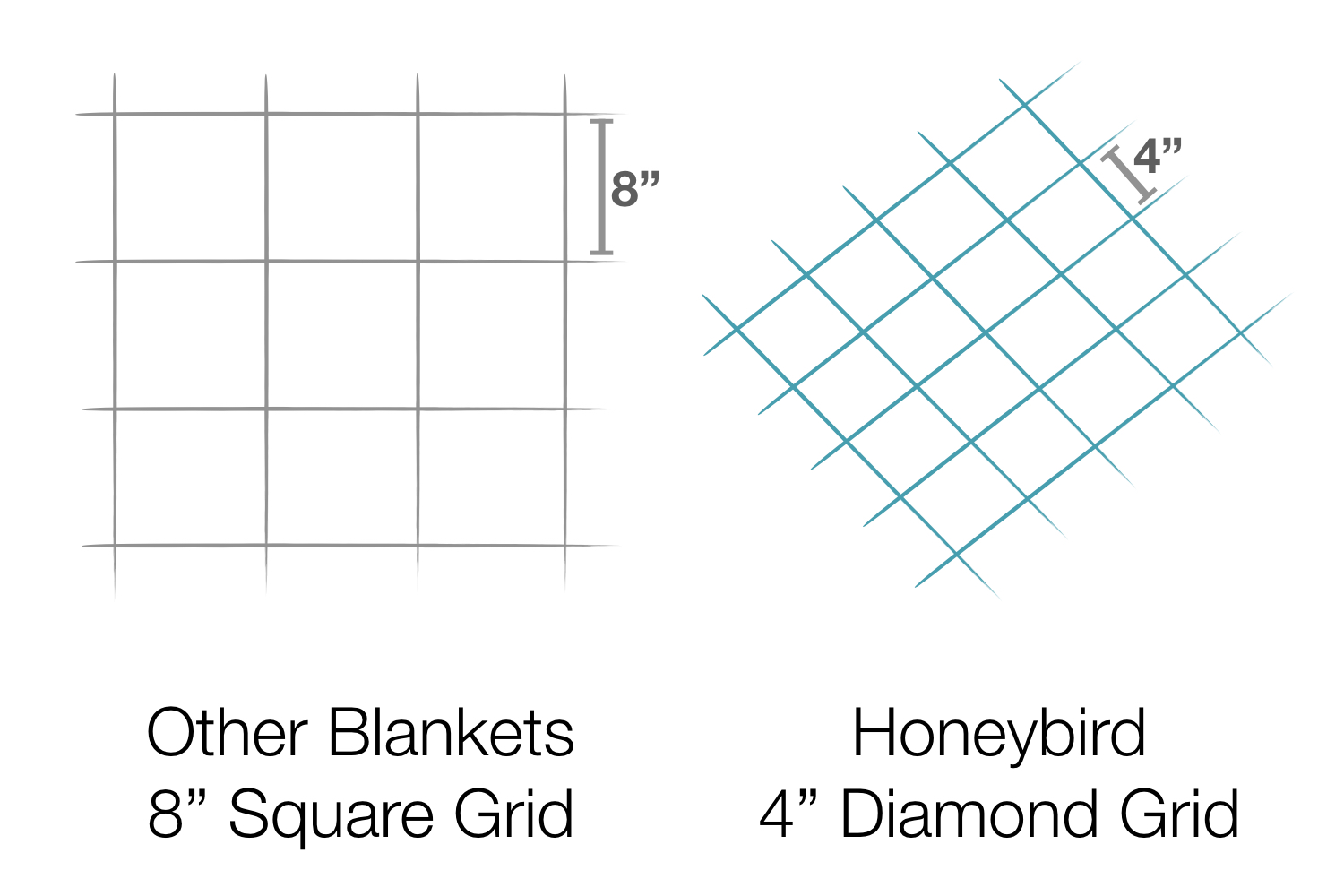 Other weighted blankets use much larger pockets because it is cheaper to manufacture. These large pockets cause the beads to shift to one side of the pocket resulting in poor weight distribution. Especially if you move throughout the night, the beads will end up moving off of your body resulting with minimal pressure.
Our dense pocket design allows for four times as many pockets than cheaper blankets. This ensures even weight distribution.
4. The Cooling Cotton Cover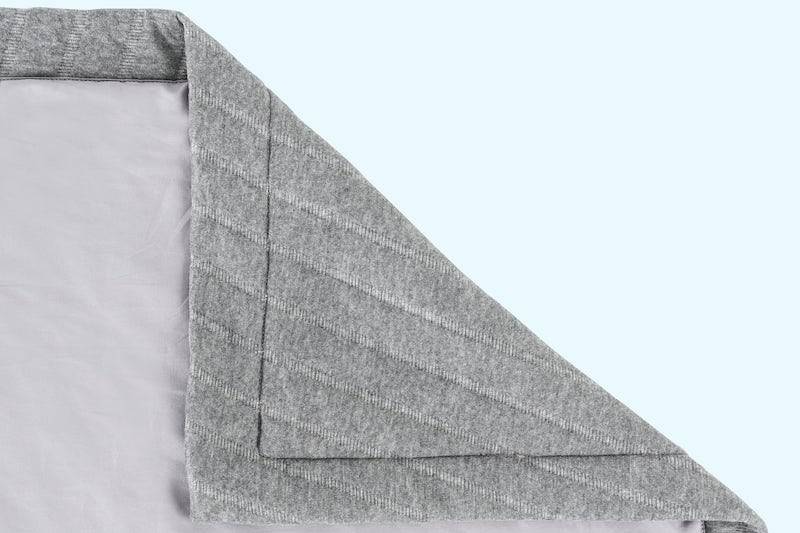 We've designed the most innovative weighted blanket cover in the industry. Our cover is dual-sided. One side is a soft, cooling cotton layer. This side goes against your skin to maximize contact and keep you cool. The other side is a proprietary fabric blend that is plush and cozy.
This cover is easy removable with a zipper and can be machine washed for easy care.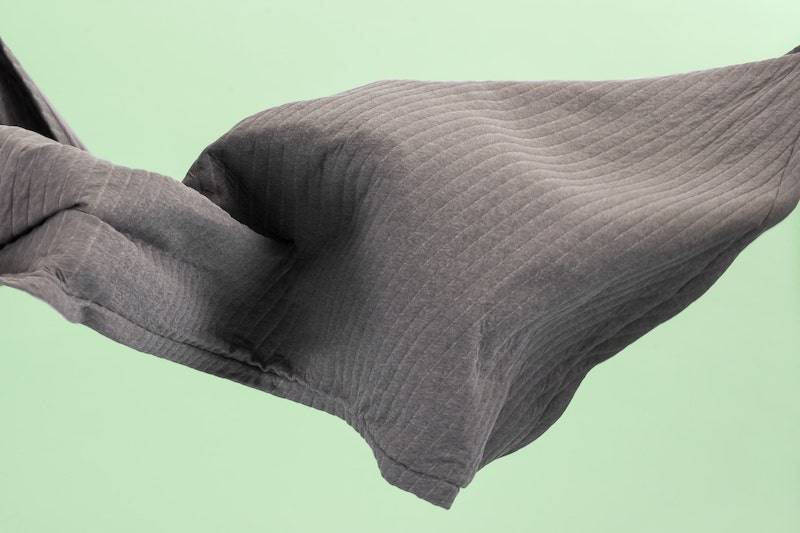 The compact nature of the micro glass beads and smart cover design allowed us to create the thinnest weighted blanket out there. This makes our blanket much easier to move around than the competition.
Our thin profile also keeps you from overheating by minimizing the blanket's density. Other blankets feel like a giant and unwieldy bean bag. Ours feels like an actual blanket.
6. Eight Duvet Ties to Keep the Weigh in Place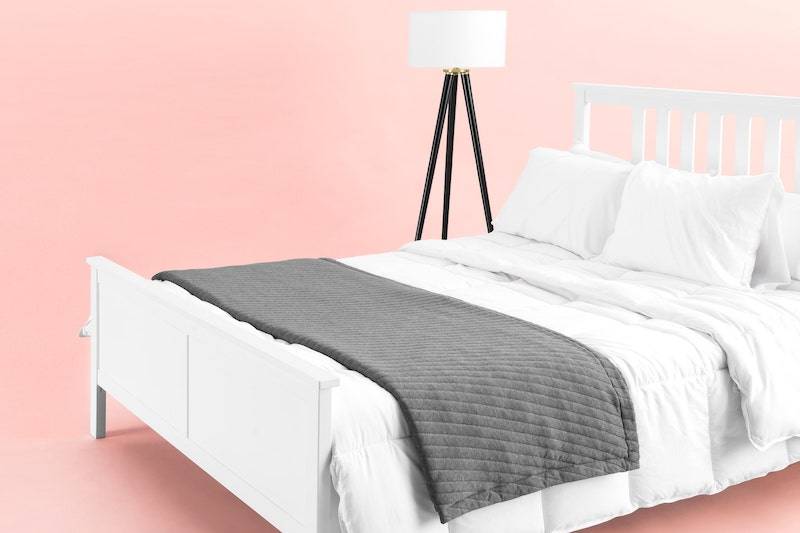 Other blankets with just four ties have problems with the weight shifting and sliding to one side of the blanket.
We designed our blanket with eight ties. We found this to the be the perfect amount to hold the weights in the right place no matter how you're using the blanket.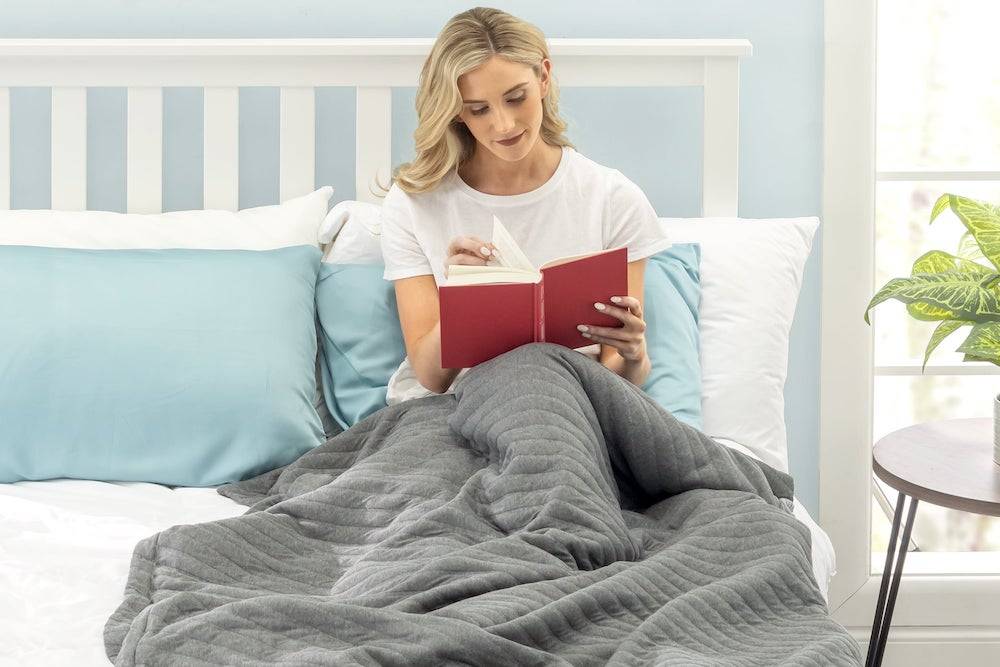 Our weighted blanket is designed in a throw size (51'' by 75'') for a single person. This is because you want the weight to be as concentrated as possible over the body. If the blanket is too big, most of the weight will be off the body on the bed or couch. Even worse, if part of the blanket hit the floor it would drag the rest of the blanket down with it.
We also don't offer blankets for multiple people because it would have to weigh over 30 pounds on average. We found this to be way too heavy for even couples to move around comfortably and definitely too heavy for one person to handle.

The Highest Quality at the Perfect Price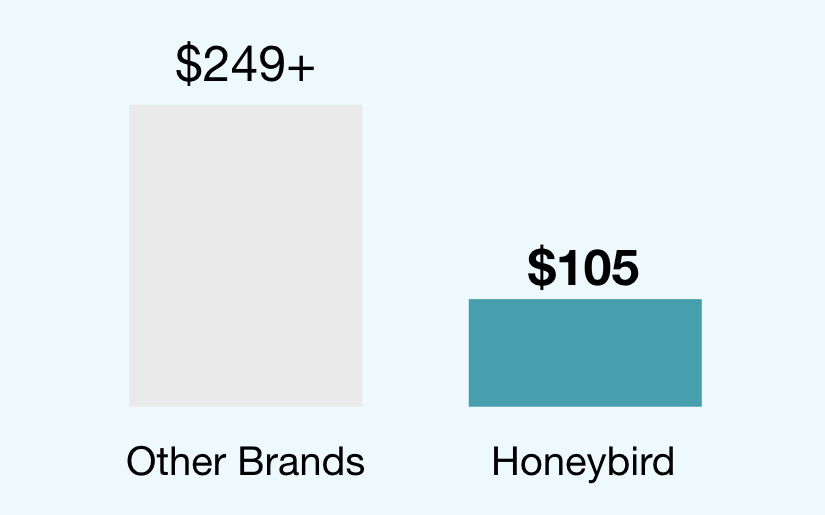 Weighted blanket companies that charge $250+ are ripping you off. With our special promotional pricing, we start at $105.
We're able to do this because we have relationships with the top-tier factories and sell directly to you online. If you buy a cheaper blanket, you're most likely sacrifcing quality so

Best of all, we partnered with AfterPay to provide an option to split your purchase into 4 smaller interest-free payments.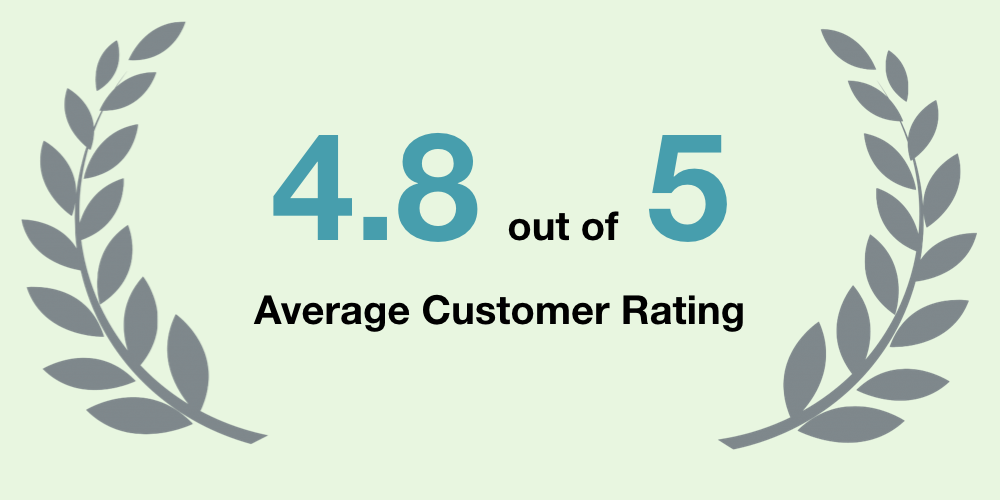 "I've had trouble sleeping for several years. I would get up a few times every night. Sometimes it took me hours to fall asleep. I finally tried a weighted blanket and am waking up less often and falling asleep faster."


"Love this blanket. It's perfect for decreasing stress and instantly making me feel more calm. I've bought it as a gift for my mom who said it was her favorite gift in a long time."


"I wish I had tried it sooner. I feel so safe underneath the weighed blanket. I also find myself tossing and turning a lot less and staying asleep longer."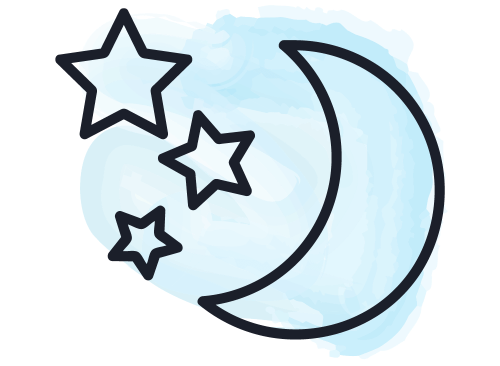 Try For 30 Nights, Risk Free
We know it's hard to imagine what a weighted blanket feels like. We're so confident you'll love it that we offer a Risk-Free 30-Night Sleep Challenge.
Try our weighted blanket for 30 nights. If you don't love it, just let us know and we'll refund you, less shipping.

Find out which blanket we recommend for you.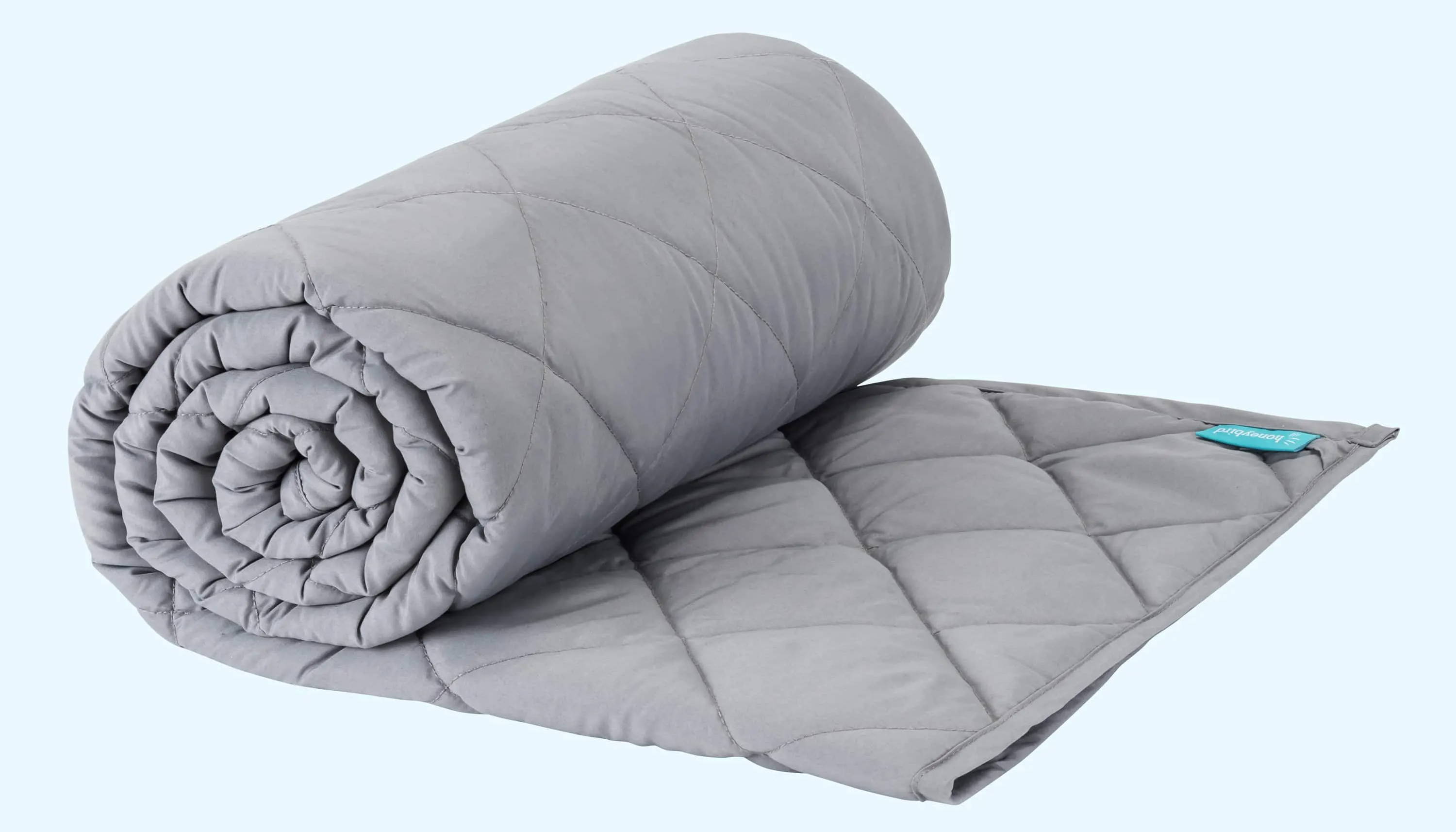 Or choose your blanket below.

LIMITED TIME DISCOUNT: $30 off and FREE SHIPPING on all orders, no code necessary.
A soft and cozy, breathable weighted blanket made with cotton, undetectable glass beads, and quality construction. A natural solution for poor sleepers.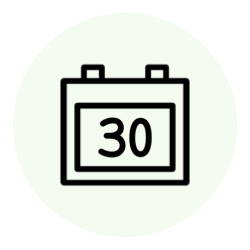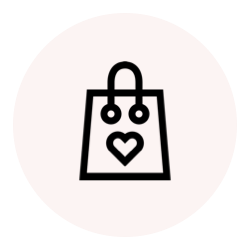 Product Details
Natural solution for better sleep
Reduce stress/anxiety
Provides deep touch pressure stimulation
Feels like a comforting hug
Great for cool and warm sleepers
5-star reviews
Tens of thousands of happy customers
4" diamond grid for uniform weight distribution
Quality stitching and construction
No bunching or excess heat
Premium, undetectable glass beads
Machine washable cotton layered cover
Large personal throw size (51" by 75")
Free Shipping
Hassle-free returns for 30 days
Payment plans with Afterpay
Questions? Email us at Hello@GetHoneybird.com
Weight Selection Guide
We recommend the blanket be around 10% of your body weight.
We suggest you go down a weight if you're on the border.
If it's not right for you, we can always let you exchange for a different weight!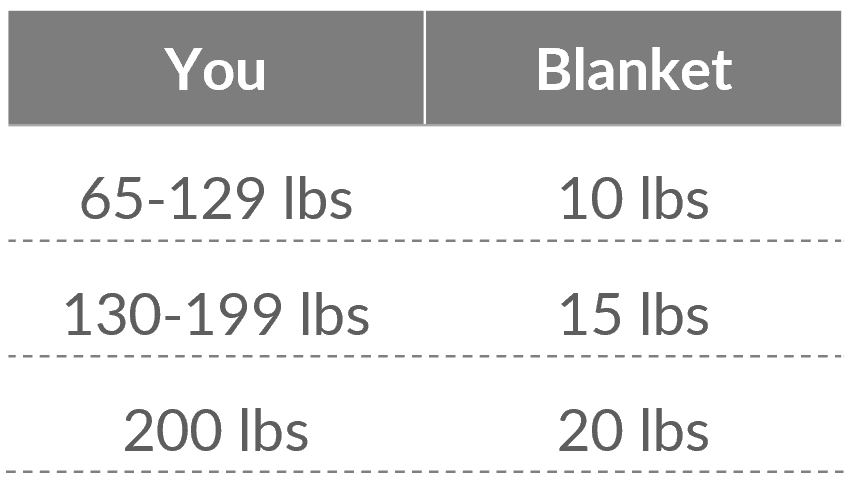 omg
i slept with it a week before i gave it to my girlfriend. we love it, helped with her insomnia and me with restlessness, now she wont give it back so i'm getting one for me!
Love it. Ordered and received my second one today, April 8, 2021
Finally, a good night's sleep!
I usually sleep 2-3 hours a night. Since I've been using my blanket, I have been sleeping 6-7 hours every night. Thank you so much for making this wonderful product
The Honeybird Weighted Blanket